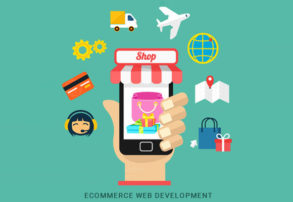 We are known for being one of the top companies that helps its clients create some of the best and most ingenious self-manageable e-commerce platforms. We thrive in understanding client businesses and thoroughly disrupting markets.
Electronic commerce (ecommerce) is a type of business model, or section of a larger business model, that made empower a firm or individual to conduct business over an electronic network, typically the Internet. Electronic commerce operates in all four of the major market section: business to business(B2B), business to consumer(B2C), consumer to consumer and consumer to business. It can be thought of as a more advanced form of mail-order purchasing through a catalog. Almost any product or service can be offered via e-commerce, from books and music to financial services and plane tickets.It is currently one of the most important aspects of the Internet to emerge.
An industry that is forecasted to be worth close to $6.7 trillion by 2020, E-Commerce is one of the most versatile and fastest growing industries on the planet. As a business what you have to ask yourself is this simple question – Are you able to optimize your web presence in the business of selling online?
If the answer is anything but a definite yes, you need futureprofilez. We believe that the only way we can beat the competition is by staying ahead of the curve, our E-Commerce Development team can only be called the best in the industry of E-Selling.
500+ successful projects
Ultimate shopping experiences
Proven expertise in M-commerce
100% Responsive websites
Easy to Manage Backend
Interactive user interfaces
View our latest E-commerece Portfolio
E-commerce Services: