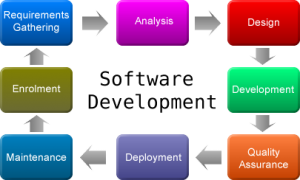 Adopting and integrating new technologies and
software product development
strategies for developing scalable and vigorous solutions ensuring the timely return on investment to clients.Future profilez India pvt ltd provides a quality driven approach towards
web development, software development
and provides end-to-end personalized solutions catering to the necessities.Future profilez India pvt ltd is a company with strong competencies in
Open Source
& Microsoft platform. Our cost efficient
Software Development
provides high class software solutions to partners globally. For more than a decade, starting from its modest roots in Australia Future profilez India pvt ltd has gained expertise in offshore software outsourcing, web development and software development for thousands of clients globally.Our regular interactions with these clients have made our software team familiar with customer expectations and helped us implement our vision – "respecting professionalism and commitment".
Smart job board software
is providing new horizons in open source development by crossing all the barriers making trillions of
Php Web Development
pages available across the Internet & generating massive revenue globally.
Our Success Mantra in software development is
: Scaling Customer Expectations, exceptional customer satisfaction in our exclusive supple software development outsourcing model.Future profilez India pvt ltd's Customized Software Application development for web & desktop applications includes:
Social Networking, Real Estate
, Infotainment,
Ecommerce Websites
, HealthCare and E-Learning.
Our Web Jobs Software Project
Client Testimonial

We have been working with future Profilez for two years. They are first-rate and high level web development agency. We worked with Future Profilez on re-organizing our Gift Basket Online shop. We always appreciate their professional works. Especially response times and patience of the new requests.