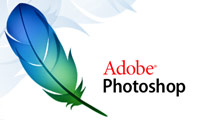 Photoshop graphic design is an artistic expression of types of visual electronic information that can be designed for a website or advertisement. It has also been used in print media. Using the important features found in photoshop graphic design can help the user create functional and pleasing effects on projects.Photoshop has a unique user interface where you choose tools for creating customized graphics. It is user friendly and is appropriate for beginners as well as professional graphic designers. Newer users can quickly master the features by accessing tutorials offered with the software. The tutorials can also help the more experienced users maximize usage of the photoshop features.
The features in photoshop graphic design address the basics of graphic design. A user can manipulate images using actions, layers of images and styles. Creating shapes, drawing and painting can also be used along with cropping, retouching and filling to create interesting graphics.Photoshop is always cause for celebration, as users look forward to new features and enhanced workflows. This time, the usual 18-month to 2-year cycle has been cut to just a year, as Adobe feels pressured to deliver more frequent updates to its Creative Cloud members – and it shows.
Photoshop is the ability to take a photo and use it to create graphics. Using filters, you can choose elements within a photo and use a painting or drawing option. With painting, you simply use a virtual paint brush to alter the photograph. This feature can render the photo as a caricature to use in your graphic design.One of the most important aspects of Photoshop is the "Layers" panel. The ability to place new elements in a design on separate layers allows them to be edited separately, meaning that changes made to one layer will have no impact on changes made to another.
Future Profilez offer top quality web design services and are a team of professional web developers that is constantly at its best to cater to your web development needs. The services of our Web Design Company are based on the several content management systems of various types, which mean that we can adapt ourselves to the type of site you prefer to use. If you like your web development company to have the most advanced, cutting edge technology delivered by the best professionals in the field, then you have come to the right place.
Our Photoshop Project
Client Testimonial

I like the professionalism Future Profilez has and the companies attentive nature. I like dealing with Future Profilez a lot. Very helping, committed, also good communicators. I recommend this professionals!