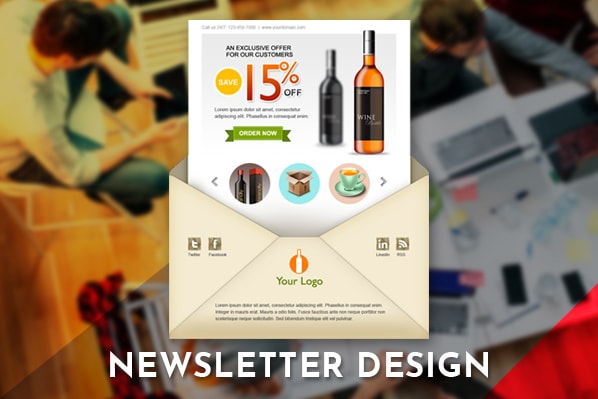 The visual impact of a mailer design is the most imperative as it makes the distinction between the mailer being read or just kept aside as yet another E-mail campaign. Future profilez Newsletter/emailer design service focuses on scheming effectual Email Campaign Design that not only reach out to the user, but also catch users consideration.
Our trained mailer design team creates mailer designs and leaflets that create bang of brand uniqueness as per your company marketing policy.Future profilez offers you the admirable design for your email newsletter particularly for your business that will endorse and grow your business a lot and construct a good image in the market. We are offering newsletter designs at lowest and reasonable rates that appeal all type of customers.
Among other competent Website Designing services, we proffer you the artistic, high-class, and economical . The first-class email newsletters are very essential for the successful marketing and endorsement of your website. We can suggest you the professional, custom design, industry-specific HTML newsletters. With a well-designed email newsletter you can express new Web pages into your prospects and customers email inbox, staying in touch and in front of them with a least amount of exertion or expenditure.
A newsletter is a cost-effective medium for building relationships and maintaining regular contact with customers and prospects. In its 2013 B2B Content Marketing Benchmarks, Budgets and Trends study, the Content Marketing Institute found that 78 percent of respondents used newsletters. Research firm Nielsen Norman Group asked respondents how they preferred to receive company updates, and 90 percent cited newsletters, compared to 10 percent for social media. Newsletters can help you increase the coverage of your target audience. By placing information about the newsletter on your website, you can capture contact details of new prospects by asking visitors to subscribe. Issuing newsletters by email to all of your customers and prospects is a low-cost method of communication, leaving more in your market budget for advertising or other promotional activities. Newsletters are therefore an extremely valuable marketing tool used by ourselves as well as by our customers.
Newsletter/Emailer Design Service: