Shopify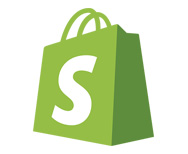 Shopify is a complete ecommerce solution that allows you to set up an online store to sell your goods. It lets you organize your products, customize your storefront, accept credit card payments, track and respond to orders — all with a few clicks of the mouse. We focus on making commerce better for everyone, so businesses can focus on what they do best: building and selling their products. Today, merchants use our platform to manage every aspect of their business — from products to orders to customers, selling online, in retail stores, and on the go.
Being Word press expert, they develop – Blogs, Plug-ins, Themes, Shopping Cart, Social Networking sites, Community web portals and Ecommerce Websites /online shopping sites.We offer a wide array of services for Word press rapid development.Get your preferred Word press website development service/solution from our word press PHP Development Company India.The services of future profilez are cost effective, reliable, secure and scalable.
Our word press developer offers a wide variety of services:
Shopify theme development
Shopify Templates development/customization
Shopify web development
Shopify Blog customization
Shopify CMS Customization
Customized Shopify Installation
Shopify Social Media development
Our Motto is:
Shopify theme development
To provide our clients with cost effective web solutions using the efficiency of our Word press web developer. We help you to reduce up to 60% of your total development charges incurred without upsetting the eminence of the work.
Our dedicated team of Shopify developers provides you the best Shopify solution in the growing IT industry.
We have a client centric approach; provide our clients with nothing but the best Shopify App development services in the industry.
Our brilliant Shopify web design teams make sure that your requirements are met in a professional way.
Our Shopify Project
Client Testimonial
We were especially pleased with their technical acumen and acquired knowledge in their field. The combination made for a highly collaborative working relationship.